Character Details
Talk

0
261pages on
this wiki
Category page
Your Character is your own survivor that you can customize. When you begin the game, you can customize your Character's Name, Profession, Gender and details such as skin tone, facial appearance, hair type and color, and for male characters, beard type. The looks of a Character isn't important, but its Profession is. Most Professions are quite different from each other, and have their pros and cons. For example, only Chefs can cook food, but they lack any sort of Stat or Proficiency boosts.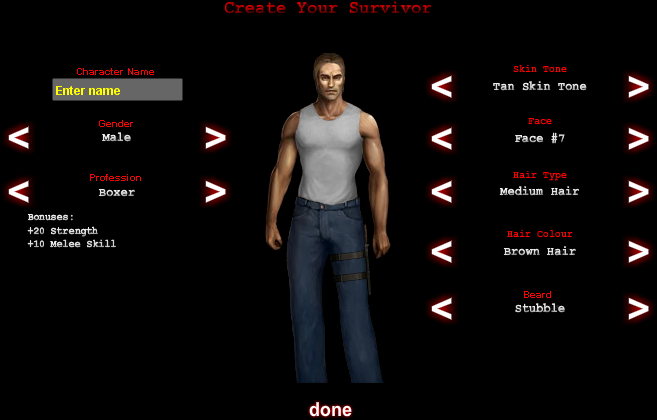 As your character levels up and progresses, your character gains stat and proficiency points to allocate. Players gain 5 stat and proficiency points every time they level up, until they reach level 51. From that point onwards, players will get 1 stat point and 2 proficiency points. Stats max out at 100 while proficiencies max out at 120, but most stats can be augmented to 124 with the use of Mastercrafted [MC] and Godcrafted [GC] items. For more information on stats and levels, visit this page.
On October 18, 2009, Dead Frontier gained a brand new avatar system, which included new character customization such as hair, skin color, facial features, and clothes. All existing Dead Frontier players will get the chance to remake their survivor when they log in.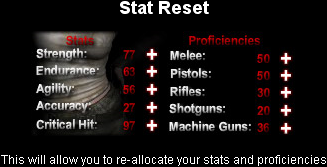 Players may also purchase stat resets from the Credit Shop, to reallocate their stat and proficiency points, at a cost of 200 credits or 100 credits, depending on whether or not the player is a Gold Member.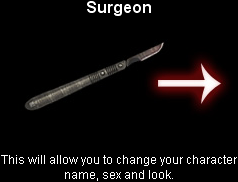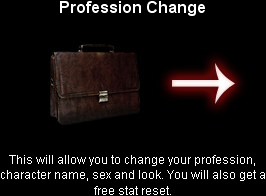 A "Surgeon" function exists, and players can change the appearance of their character again, but it will cost 200 credits, or 100 credits with the Gold Member discount. For a more "extreme makeover", a "Profession Change", costing 1000 credits or 800 credits with Gold Member discount, will allow players to change their profession, sex and appearance. It also allows players to reset their stats.
Pages in category "Character Details"
The following 4 pages are in this category, out of 4 total.