3D version map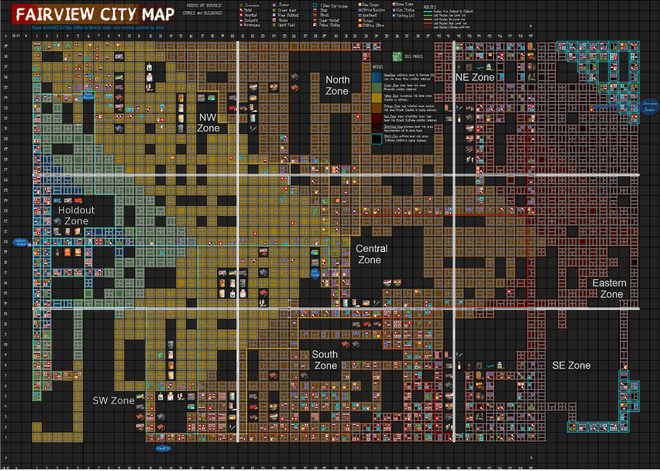 This is the current map of Fairview as of October 2012.
The various colored zones group areas where particular types of infected can be encountered. Players who have barricaded themselves in buildings in a particular trade zone can trade with other players barricaded within that zone.
See the Dead Frontier GPS Tool to track your current location in the map (outside and buildings).
3D version map before the map extension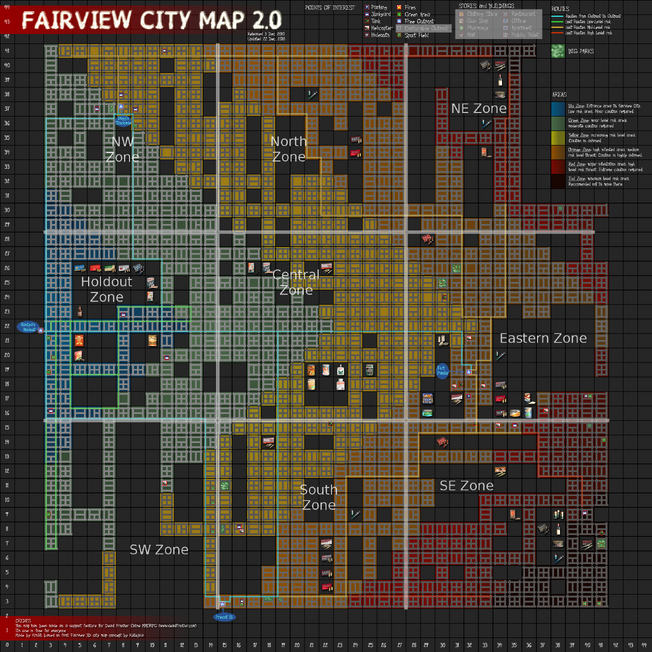 This was the 3D map until October 2012 when new areas have been added to the game. By now, the 'zone' borders in Fairview have changed dramatically - this map is only supposed to give a broad idea of the difficulty in each area.
Detailed Mini Map
This detailed Mini Map of Fairview is a community-driven project relying on contributions from the Dead Frontier community members for creating & uploading detailed images for each block of Fairview.
To see an example on how/where these detailed images are used, check the Dead Frontier GPS where lootspots are displayed on each of the detailed maps.
Help needed
Please join us in the effort, and be a part of Fairview's most detailed map.
We have put this Tutorial online to ensure you can hit the ground running. If you need additional help please visit this thread.
NOTE: When creating a map, please be sure to set graphics to BEST and enter Single Player Mode wherever possible.
What to do?
By order of priority this is the ground we would like to cover:
SE End Zone
NE End Zone
Blocks around outposts
Mission Areas
Fort Pastor Mission Areas

Precinct 13 Mission Areas

Dogg's Stockade Mission Areas

The Pick Up (1011x988)
Need a Hand(1001x981)
It's spreading (4 zones square 1009x985 to 1010x986)
Big Brother (1007x985)
Flamin' stenches (1004x995)

Nastya's Holdout Mission Areas

The Doll (1000x1003 + 1001x1003 + 1001x1004)
The Reunion (1003x1003)
The Hunger (4 zones square 1005x999 to 1006x1000)
The Cure (1000x995 + 1001x995 + 1002x995)
The Sickness
The Flames
The Rescue (1005x1000)

Path to EZ
Commonly Traveled Routes
The rest of the whole map
Points of Interest
Note: Click on the name of the mission to see the map of the area.
This is still in progress, to help simply hyperlink the mini-map (full sized image) to the word; such as Need at Hand? at Dogg's Stockade, it should only be a one block map.
Outposts
Missions
Nastya's Holdout Missions
The Doll (3 areas)
The Hunger (4 areas)
The Cure (3 areas)
The Search (4 areas)
Dogg's Stockade Missions
It's Spreading (4 areas)
Fix 'Em Up (3 areas)
Suck On This (4 areas)
Sickle Armed Bastards (1008x983)
Precinct-13 Missions
End Their Suffering
Family First
Find Sabrina
Revenge
Find Charlotte
Battery Acid
Communication Is Key
Tendril Strike
Officers Down
Itchy Scratchy
Blood Harvest
Tentacles Everywhere
Find Jim
Mow Them Down
Scream Away
Fear The Reaper
Infection (3 areas)
The Lost Pendart
Fort Pastor Missions
War Machine (4 areas)
Tanks Get Thirsty Too (9 areas)
Engage (4 areas)
Think Of The Children(6 areas)
Chemistry Time(4 areas)
Think Of The Children (6 areas)
Stack Em, and Burn Em(3 areas)
Times Up (4 areas)

Top Left (1031x990)
Top Right (1032x990)
Bottom Left (1031x991)
Bottom Right (1032x991)

Hunger Strikes (4 areas)
Save The Data (6 areas)
Chopper Down (6 areas)
My Boys Need Beer (6 areas)

​Bottom Left (1041x1007)
Bottom Right (1043x1007)
Bottom Middle (1042x1007)
Top Left (1041x1006)
Top Right (1043x1006)
Top Middle (1042x1006)

Alarm system (4 areas)
Detailed Mini maps