Viking Clan
Talk

0
269pages on
this wiki
Viking Clan
Leadership:
William Cunningham
Playing Style:
Grinding, looting, boss hunting, etc...
Alignment:
Chaotic Evil
Forum Thread:
Viking Clan
Website:
http://vikingclan.comoj.com/
Recruitment:
Levels 35+
Main Language:
English
Main Timezone:
USA EST
Backround
The members of the Viking Clan model themselves after their namesake, the Norse Vikings that tore through much of the world in the middle ages. Like our ancestors, we aspire to be brutal warriors and fierce allies. To our brothers in arms, our loyalty is boundless. To our enemies, our wrath knows no limits. We make our living off of pillaging the city of the undead, and by annihilating anyone-infected or human-that gets in our way.
We neither need nor want acceptance. We do not exist to please the masses. We do not go out of our way to pick fights, but nor will we bend to the will of others. Know that should you make any threats against the Vikings, you do so at great personal risk. We live and die as brethren, and to attack one of us is to attack all of us. If, however, you come offering friendship, you will be welcomed at our table with open arms. Vikings may have been vicious in battle, but contrary to popular belief, they were hardly barbarians, and anyone that comes in peace will not be slighted here.
Friends and enemies alike take note. We may go dormant at times, go to root and fall into a deep sleep like the All Father of legend, but make no mistake, we are here and we are here to stay. Vikings never give in and never surrender. As long as one of us remains, we will persevere, we will fight on. A Viking once is a Viking forever...
Our emblem is a symbol of our united strength and valor.  The shield represents our duty to protect each other, the axes represent our united effort to defeat our opponents, and the helmet shows our courage - even in death.
Clan Projects
The Vikings know that, to be the best, you have to be experienced. So, Viking Clan has put forth great effort to bring you The Viking's Guide to Dead Frontier. This guide contains the most up-to-date information about Dead Frontier. This includes:
Current Zombies

Weapons DPS/Guide

Complete mission walkthroughs with detailed mission maps

Tips and tricks for looting and leveling effectively

Dead Frontier technical requirements to play

Players Builds

Abbreviations/Terminology

TPK/TS walkthrough

and more!
The guide is balanced between new players who want to do well, and more experienced players who want to win TPK or TS. This guide is sure to enhance your Dead Frontier gameplay - regardless of your level.
Clan Trailers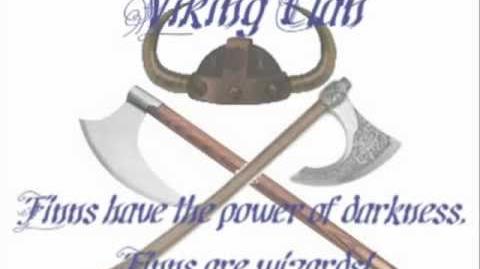 < 2012 Viking Clan trailer.
Recruitment video. >
Viking Quotes
"Finns have the power of darkness, Finns are wizards" This was the cry of the Viking warriors who feared nothing... nothing, but the power of the Finns in their dark forests.~Unknown
"Never walk away from home ahead of your axe and sword.You can't feel a battle in your bones or foresee a fight."~The Havamal
"His [Odin's] men rushed forwards without armour, were as mad as dogs or wolves, bit their [enemies] shields, and were as strong as bears or wild oxen, and killed people at a blow, but neither fire nor iron told upon themselves." ~Snorri Sturluson on Berserkers (aka Vikings) in the Ynglinga Saga.
How to Join
Joining Viking Clan is easy. Please fill out an application (as listed below) on our clan thread and you will be automatically accepted if you are over level 35. Anyone who is below level 35 will probably be accepted (as we are very loose about our acceptance rules).
Current Clans (If applicable):
Who invite you? (if applicable):

We will NOT accept any applications via this Wiki.
Rules/Blog
The blog can be found on our website.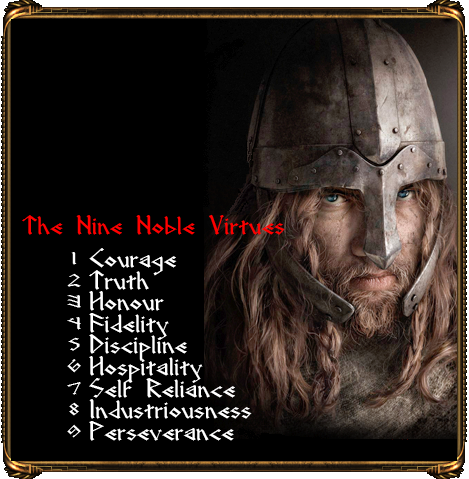 As Vikings we live and die by a rigorous code of conduct. These are the laws of the Viking Clan, and are to be followed at all times. If you break a rule, you will be given three chances to get yourself in order. After the three strikes, you will be kicked.
Courage - Don't back down from a fight or let people walk all over you. Have no fear of death - embrace it - true Nords don't run away.
Truth - Don't lie to your fellow Vikings. Be open and honest with problems. Lies only cause inner turmoil.
Honor - Honor your clansmen, your clan, and your friends. If war comes, be the first to volunteer to fight.
Fidelity - Be loyal to the clan by not multi-clanning with other clans unless they are purple-tier allies. Display your signature and show the world what Viking Clan is like. Loyalty to your clan members should be your first priority.
Discipline - Train hard and learn as much as you can. Train your mind not to fall to every taunt and jeer.
Hospitality - Welcome friends of your friends with open arms. Hand them a bottle of mead. Treat every visitor like a guest. Invite other clans to ally with us so we can build new bonds and friendships.
Self Reliance - Vikings of old knew how to repair their longboats when they were out raiding. Today, you should be able to repair your armour, loot, and boss hunt without tons of assistance from the clan.
Industriousness - Don't complain about bad luck or a failed boss hunt. Grab your axe and train harder!
Perseverance -Don't be discouraged. Every Viking here is here to help your persevere and obtain your goal. Don't stop if the job gets tough or the war goes sour. Push through it, and become a better man for it.
Leadership/Ranks
Please click here to see the complete list of clan members with their assigned ranks. Thank you.

Chieftain (Held only by the clan leader)
Leader of the clan. The Chieftain has the following responsibilities:
Accepts new members

Kicks members

Accepts alliance offers

Extends alliance offers

Manages the armoury

Manages most of the thread

Co-Chieftain (See requirements below)
Co-leader of the clan. Awarded to those deemed trustworthy and who have great charisma. There are only three Co-Chieftains. Each Co-Chieftain runs his/her squad and deals with day-to-day thread management.
Duties:
Accepts new members

Kicks members

Leads a squad
The Co-Chieftain Council has the following duties:
Declares wars (with 2/3s majority vote)

Manages thread
Jarl
Jarls are like Co-Chieftains, but aren't as active, or have other duties.  Jarls are in their position because they have done one of the following:
Have promoted the clan

Have run a charity/shop-type thread with the clan's name on it

Have done deeds to further the clan

Have served the clan through honor and valor

Landsmann
An admin-class. Deals with day to day activity on the forums. Basically - thread mod.
Stallari
The only non-admin-class rank that allows the player to accept others into the clan. If you reach this rank, you have a promising future.
Kinsman Hauldr
This rank is for those who show promising leadership skills.
Huscarl
Elite soldier. 'Nuff said.
Bonda
Bonda are Vikings who have learned the ways of combat. They are tacticians-in-training and are on the fast track toward becoming Jarls or other high-tier ranks.
Lithsman
Lithsman have proven themselves in battle and are active in group discussions on the clan thread.
Thane
The backbone of any Viking horde - the Thanes are skilled warriors and can hold their own in a fight.
Hird
The rank below Thane. You are a Viking warrior in training.
Dreng
Newbie soldier. You've been playing Dead Frontier and are posting on our thread.
Full Lithing
The basic rank. You will retain this rank for one week.
War Rules
For Members of Viking Clan:
When war is waged by the Vikings, or on the Vikings, we call on all of our members to fight. It is easy to talk trash in the forums. It's something else entirely to go out and fight for the pride of your clan. Conduct yourselves with dignity and honor during times of war. Do not needlessly throw around insults or make a fool of yourself, especially in the face of your enemy. Show them that we are not to be trifled with, either in the forums or in the IC.
For Opponents of Viking Clan:
Wars will be fought in fair battles. No drugs, no double teaming, no trash talk, and no crying. While Vikings may have been "brutal" on the battlefield, we are gentlemen off. Please, show us the same courtesy and be respectful.